Southern Adventist University in Collegedale, Tennessee. Has been blessed with an scholarship established by SouthEast Bank. It is a four-year renewable student scholarship to benefit a new university student every year. The scholarship is of $7,000 per year with a total potential of  $28,000 in awarded scholarships over four years, the selected student must maintain a 3.0 GPA to receive the scholarship.
Ms. Bartlett, a recipient of the scholarship at Southern Adventist University commented "It means I'll be graduating this coming May without any loan debt, which means the world to me"  Current students receiving the scholarship are: Caitlyn Bartlett, Joelle Kanyana, Jesse Darwin, and Laurence Chaij.
Southern Adventist University has been receiving scholarships in partnership with SouthEast Bank for four year, the program has blessed the students with the opportunity to graduate with no or less loans for their education.  This is an investment in the future of Tennessee, but also an example to students who now see first hand the benefits of philanthropy. For Kanyana, this scholarship pushes her to be not just a good student at Southern, but also a good member of the community.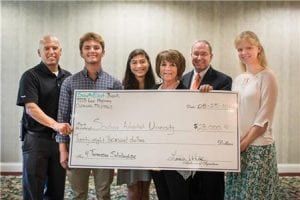 "Their investment in Southern provides affirmation that we produce high-quality graduates that SouthEast Bank would like to stay in our community," said Mark Hyder, JD, dean for Southern's School of Business.